Posted on 20 April, 2023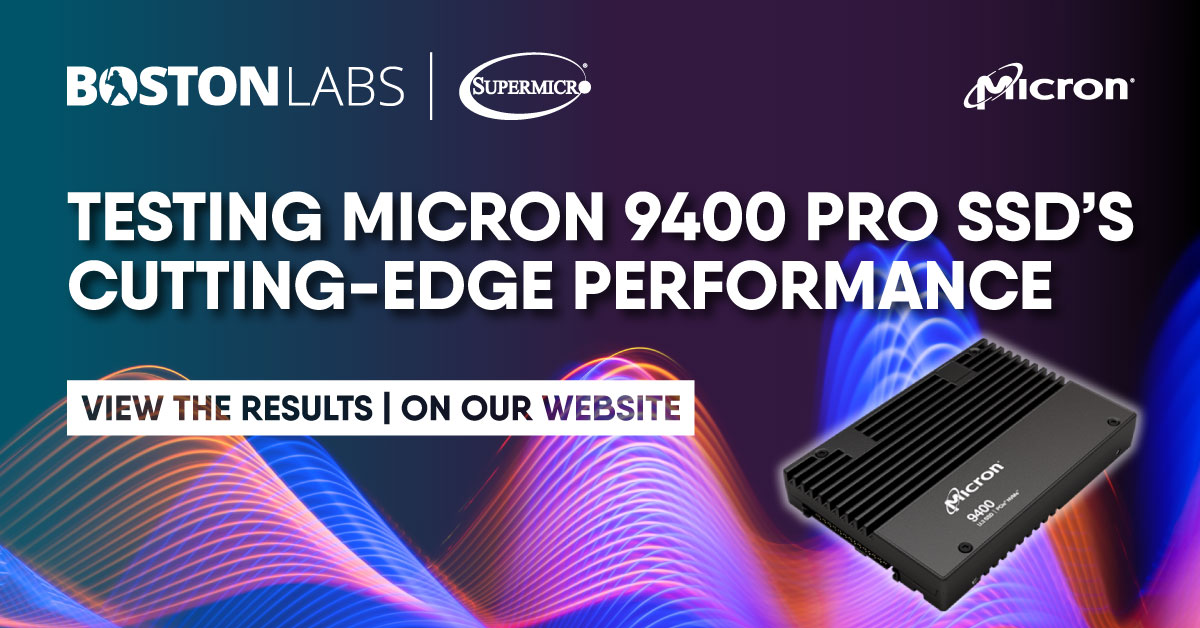 We are thrilled to announce that Boston Labs has added the new Micron 9400 PRO NVMe™ SSD's to our enterprise test drive pool, thanks to our collaboration with Micron.
This high-end solution is now available for purchase and has been designed specifically for mission-critical workloads in data centres, including caching, AI training, massive online transaction processing (OLTP), and performance-focused databases. The Micron 9400 PRO NVMe™ SSD boasts Micron's established 176-layer triple-level cell (TLC) mass-production NAND, which provides an optimal balance between performance and density. This SSD is available in the datacentre-friendly U.3 (2.5'') form factor and features a PCIe 4.0 interface with NVMe 1.4 storage protocol. Compared to their prior-generation 9300 series SSD, the Micron 9400 has up to 77% better power efficiency, which translates to cost savings and a reduced environmental impact.
Pic: 7.68TB Micron 9400 PRO U.3 SSD's at BostonLabs
The Micron 9400 comes in many capacity points starting from 6.4TB up to a massive 30.72TB. There are also two endurance options.
PRO is designed for read-intensive workloads and offers up to 1DWPD (full drive writes per day)
MAX is targeted for mixed-use workloads and offers up to 3DWPD over 5 years
Full specs, along with the performance figures, can be found in the table below.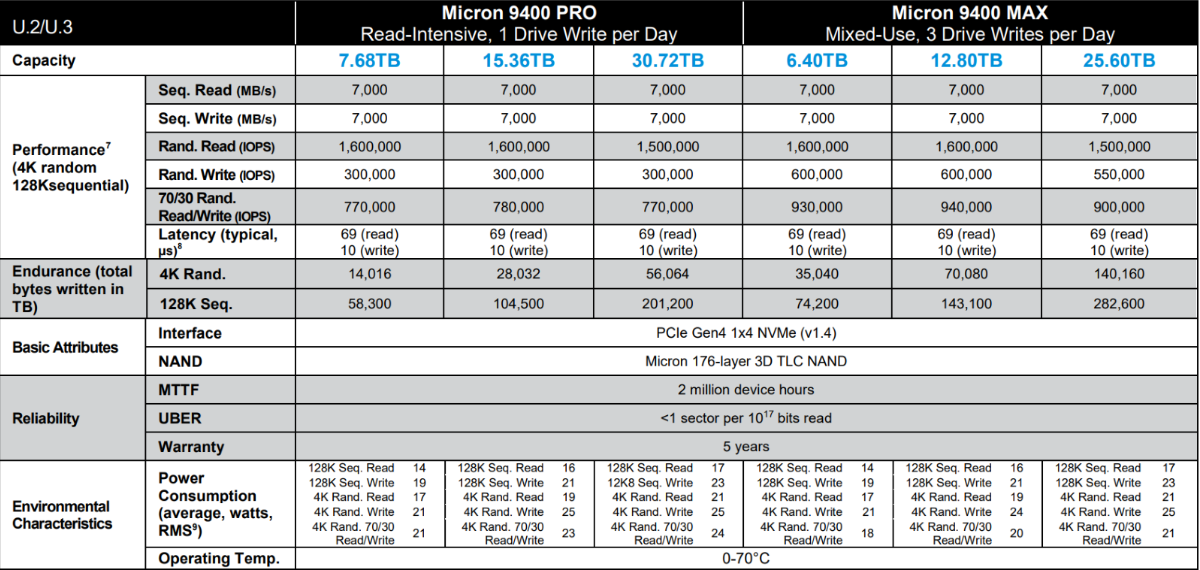 Micron 9400 specification
The below part number decoder will help you to identify the meaning behind of each character in the product part number.

Pic: Micron 9400 series part number decoder
Similar to Micron's 7400 and 7450 series, the 9400 series SSD also supports 128 NVMe namespaces. This feature enables the drive to be divided into smaller logical sections, each with its own independent I/O submission and completion queues. By doing so, the NVMe SSD is able to keep I/O for each namespace separate, which is particularly beneficial in scenarios where NVMe SSDs are shared over high-bandwidth fabrics. This technology helps minimise multiuse interaction and optimises performance.
In order to evaluate the performance of Micron's 9400 PRO SSD's, we utilised a system that is currently available at Boston Labs. Specifically, we used Supermicro's SYS-620U-TNR from their Ultra server range, which is based on Intel's 3rd Gen Scalable Processor series (Ice Lake). This server boasts 12 drive bays that support PCIe 4.0 NVMe SSD's, making it an excellent choice for testing the performance of Micron's cutting-edge SSD technology.
We will be comparing the new Micron offering with their mainstream 7450 Pro series SSD which also use a PCIe 4.0 bus.
Pic: Micron's Cloud NVMe product portfolio
To assess the sequential throughput performance of the Micron SSD's, we employed the widely recognised ATTO Disk Benchmark. This tool is capable of testing various I/O chunk sizes ranging from 512 Bytes up to 64MB. The following graphs display the performance of the 9400 and 7450 drives across different block sizes, enabling us to compare their respective performances.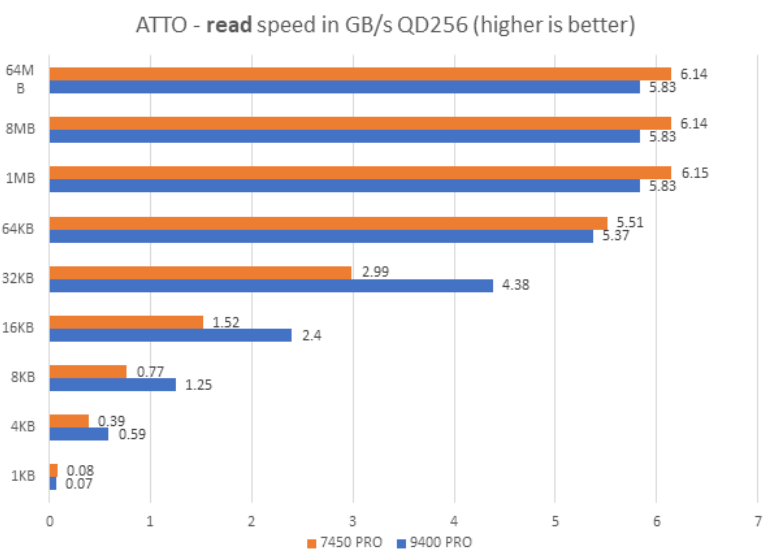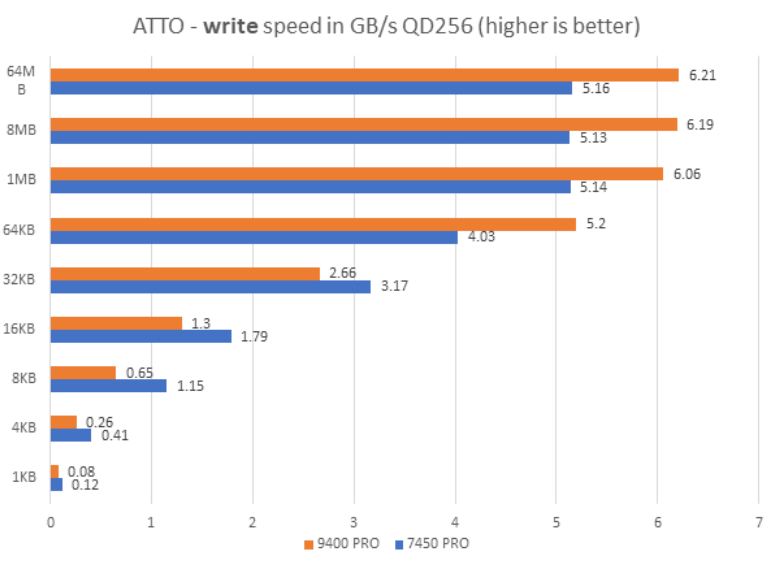 During our testing, the Micron 7450 PRO demonstrated a slight performance advantage under both read and write conditions at lower block sizes of up to 32KB. This could be attributed to the difference in capacity between the drives that were available for testing. However, as the block sizes increased, the Micron 9400 PRO emerged as the clear winner in terms of overall performance. With speeds of up to 6.14GB/s for read and up to 6.21GB/s for write performance, the Micron 9400 PRO outperformed the 7450 Pro by a significant margin.
In order to evaluate the performance of the Micron SSD's under random workloads, we utilised the industry-standard FIO Benchmark (Flexible I/O tester). This benchmark was run on the Ubuntu Linux operating system to produce the most precise and accurate results possible.
The Micron 9400 PRO SSD outperformed the 7450 PRO with more than 1.54M read and 292k read IOPs, respectively, which is a 55% and 20% increase in speed. It's impressive to witness a single SSD generating over 1.5 million IOPS, a feat that was previously unattainable without multiple SSDs.
The Random Mixed benchmark was utilised to provide a more realistic test scenario, representing a usage pattern similar to many server workloads, with a mix of 70% reads and 30% writes. In this mode, we recorded 466k IOPs, which is more than 20% faster than the 7450 PRO.
We have also looked at the latency of the Micron 9400 PRO SSD's during our FIO benchmark cycle. Solid State Drive latency is important because it affects the overall performance of the system. Latency is the time it takes for a storage device to respond to a request for data. In the context of SSDs, latency refers to the time it takes for the device to locate and retrieve the requested data from its storage cells.
Lower SSD latency means faster response times and faster overall performance. This is particularly important for applications that require fast access to data, such as databases, virtual machines, and high-performance computing workloads. With lower latency, these applications can perform more transactions or calculations in a given time period, resulting in better overall performance and user experience.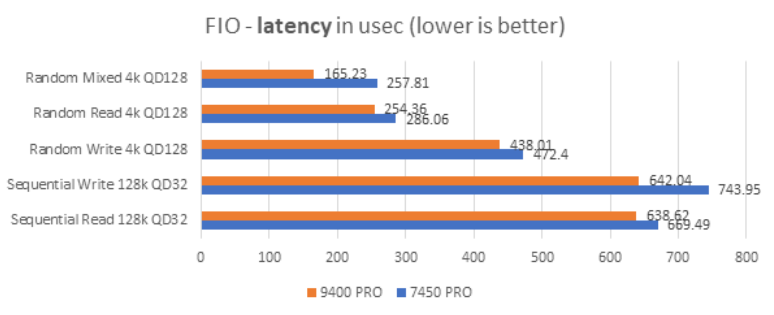 Again, the Micron 9400 PRO showed significant improvement over the 7450 PRO, from 4% up to 56% lower latency depending on the workload, which is a great result!
The Micron 9400 PRO NVMe SSD sets a new performance benchmark for PCIe NVMe storage in the data centre. This cutting-edge PCIe 4.0 NVMe server storage provides unmatched, well-balanced performance, reliable responsiveness (i.e., low latency), and colossal storage capacity to manage vast amounts of critical data. In our lab testing proved that it delivers exceptional performance without any read or write compromises.
We are excited to see what Micron will bring to the table with their next-generation 232-layer NAND for cloud storage and data centre applications.
At Boston Labs, we take pride in offering our customers the most advanced and innovative storage solutions available on the market. Our partnership with Supermicro allows us to design and build the most reliable and high-performance storage solutions for your business needs. With the fully validated Micron 9400 series SSD's available as part of our latest range of Igloo, Fenway, and Roamer series solutions, you can take the risk out of your next project and optimise your business performance.
We understand the importance of finding the right storage solution for your specific needs, which is why we offer a no-obligation proof of concept. Contact us today to request a test drive of the Micron 9400 PRO NVMe SSD or any other Micron products and discover how Boston can help you build the perfect solution for your business. Our experienced sales advisors are ready to assist you and answer any questions you may have.
Don't wait, elevate your business to the next level by emailing us at [email protected] or calling 01727 876100 today!
Author:
Tom Michalski
Senior FAE at Boston Limited