Posted on 19 April, 2023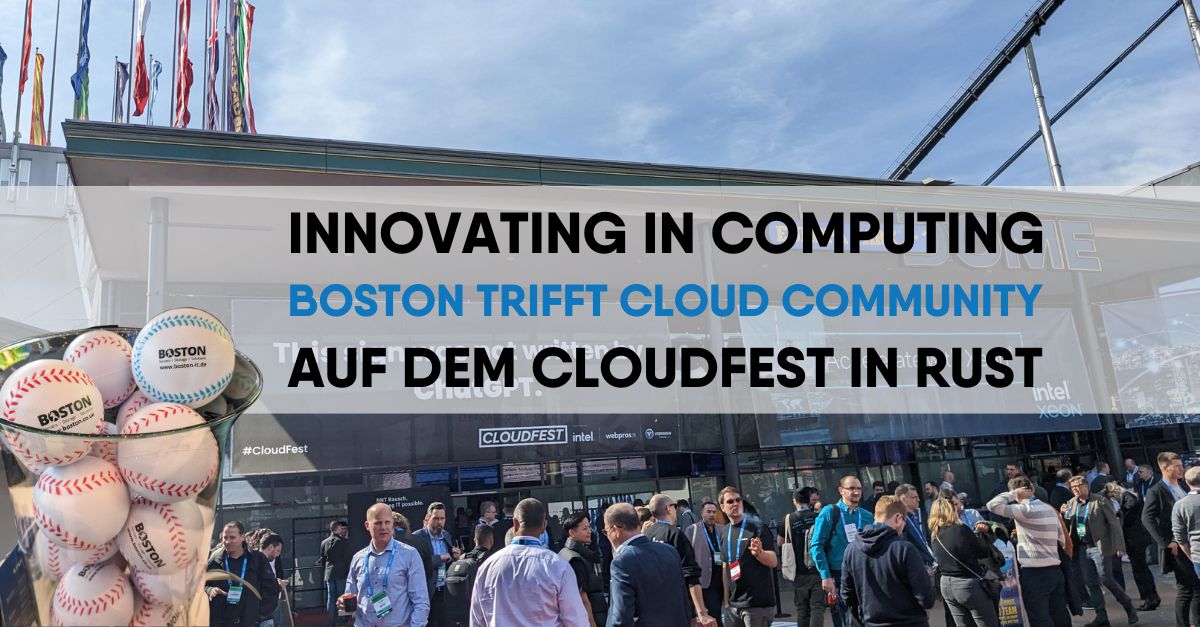 CLOUDFEST 2023
INTERNATIONAL COMMUNITY UNITED AS EVER
IT players and like-minded experts are constantly looking for new, efficient and more powerful technologies. This passion, enthusiasm and desire for new IT technologies was evident in the volume of visitors to this year's CloudFest at Europapark in Rust. With more than 8,000 IT specialists in attendance, the event was able to match pre-COVID19 figures for the first time and set new visitor records.
INTERNATIONAL BOSTON TEAM AT CLOUDFEST
The Boston team at CloudFest were out in full force showcasing a range of latest systems and solutions from Boston, and a number of our partners, alongside our colleagues from 2CRSi.
The Boston and 2CRSi group have been partnering with best-in-class technology providers for over 30 years and are dedicated to developing market-oriented and sustainable solutions for partners, resellers and end consumers. The group is constantly developing its portfolio, from tech and energy efficiency to sustainability and resource saving, to always be at the cutting edge of technological advancement and to offer its customers solutions that meet the growing data volumes and performance requirements.
Boston sent colleagues from around the globe to this year's CloudFest:
Boston DACH (Munich, Kreuzlingen)
Boston France (Nice)
Boston UK (St. Albans)
Boston South Africa (Johannesburg)
Our stand, which represented our focus topics of Liquid, Green-IT and Cloud Computing, was in the foyer of DOME.com this year.
LIVE DEMOS ON THE BOOTH
Boston and 2CRSi had the latest hands-on demo systems featuring liquid cooling, various appliances for the application of artificial intelligence and machine learning, hyperscale cloud and edge computing, object storage or hyper-converged infrastructure with the corresponding backup add-on.
Interested parties bustled around the stand, taking advantage of the live sessions on the systems to get personal technical knowledge from our team.
COOLING SYSTEMS and UNINTERRUPTIBLE POWER SUPPLY
COOLING SOLUTIONS: Live demos by our own Tom Michalski and Amos Ankrah of the Direct Liquid Cooling demo system with ZUTACORE technology.
The ZutaCore Direct Liquid Cooling system is the latest demo system from Boston. It has two-phase cooling directly on the chip, the fluid being a waterless, non-conductive liquid coolant.
This system outperforms comparable liquid cooling systems:
Up to 50% less energy usage
Up to 50% CAPEX reduction
Up to 50% less space required
Higher density with up to 3x processing capacity
In addition, the solution reduces the required cooling power infrastructure from the server to the data centre and can be retrofitted quickly and easily.
For the first time, a 3U online ECO USV system from CyberPower has also been installed in the ZutaCore Rack. Due to its uninterruptible power supply (UPS), power disruptions within server operations are prevented.
SERVER SYSTEMS WITH CLOUD-NATIVE CPUS & NVIDIA GPUS
Ampere Computing's 64-bit ARM server-based architecture system was on display in the BOSTON FENWAY 1U dual socket rackmount server.
The system is particularly energy-efficient and high-performance due to the integration of the latest Ampere® Altra® Max Processor M96-30 series, which can be equipped with up to 32x DDR4-3200 on up to 8 TB capacity.
Immediately above, the 2U rackmount BOSTON FENWAY-21A26.1 AMPERE® server system with shallow depth. The short system includes a single socket Ampere® Altra® Processor (with up to 80 cores and up to 3.3Ghz) and a single socket Ampere® Altra® Max Processor (with up to 128 cores and up to 3.0Ghz). The 2U FENWAY server system is designed for energy-efficient cloud services deployments, telco edge environments and AI workloads on edge environments.
NVIDIA GPU H100 GENERATION: The 4U rackmountable Boston FENWAY server with NVIDIA H100 GPU was also shown at CloudFest. It contains AMD CPUs and storage drives from Micron. As an operating system, Boston offers Microsoft and RedHat Enterprise Standard Linux.
The 4U server is ideal for AI or deep learning workloads, high performance computing and cloud services. It supports up to 10 double-width GPUs and stands for "Direct Connect" for maximum performance.
HYPER CONVERGED INFRASTRUCTURE, BACKUP AND MOBILE TECHNOLOGY
As an OEM partner of Scale Computing we showcased arguably the world's smallest Boston HCI cluster, which combines servers, storage, virtualisation and backup and disaster recovery in a single cluster solution. Boston has since expanded its partnership with Scale Computing to jointly develop new solutions for edge computing, virtualisation and hyper converged infrastructure.
FLEXIBLE STORAGE SOLUTIONS
IGLOO CLOUD OBJECT STORAGE: From Seagate Storage Array Exos X 5U84 for maximum capacity, availability, versatility and performance. The 5U rackmount Storage Expansion Chassis (Exos 5U84) with EXOS Expansion Node-84 from Seagate is used in the Boston IGLOO SWARM series.
IGLOO SWARM OBJECT STORAGE: On the same level, the 4-node object storage cluster with DataCore SWARM OBJECT STORAGE was presented. The software-defined object storage solution is designed specifically for local and private cloud environments, features integrated storage, client and content management that supports S3/HTTP, API and NFS/SMB.
It is easily scalable up to the exabyte range. The Boston IGLOO SWARM solution is based on a 2U Supermicro rackmount single storage system with the latest CPUs from AMD.
Working side by side with technology partners Seagate and DataCore, Boston is bringing enormous capacity to exabyte-scale storage solutions, which is urgently needed for healthy growth in the midmarket as well as in the data centre sector.
STORAGE TECHNOLOGY WITH NVMe SSDs: Micron, the manufacturer with the broadest portfolio of silicon and semiconductor solutions, showcased its latest SSD storage solutions - including the new Micron® 9400 NVMe SSDs. The series sets a new performance benchmark for PCIe Gen4 data centre storage, surpassing previous industry benchmarks since its release.
THANK YOU TO THE CLOUDFEST TEAM FOR AN INCREDIBLE EVENT.
We are already looking forward to next year, when Europapark will open its doors to the cloud computing community again.