Posted on 07 February, 2023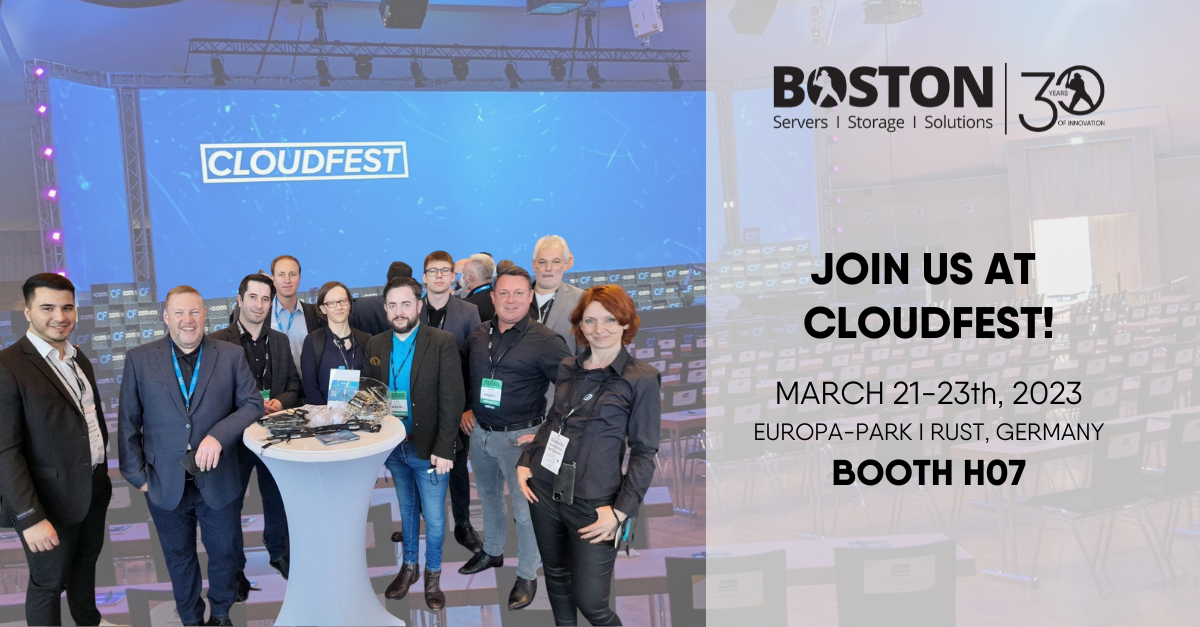 Cloudfest im Europapark/Rust - Boston/2CRSi ist mit dabei
Das Cloudfest 2023 in Rust ist nicht nur durch seine besondere Lokation ein Event-Highlight. Hier trifft sich jährlich die Cloud Community, um die neuesten Trends und technologischen Entwicklungen für Cloud Umgebungen vorzustellen. Auch Boston ist mit einem Stand sowie einigen Vorträgen vor Ort vertreten.
Den Stand H07 im Foyer sollten Sie unbedingt besuchen. Wir bieten Ihnen am Stand Informationen zu folgenden Themenbereichen an:

- Liquid Cooling - AI/ML - Appliances - HCI - Edge to Cloud -
Object Storage - Cloud Computing - Infrastructure

Alle Themenbereiche werden im Fokus von Energieeffizienten Kühl- und Cloud-Lösungen betrachtet, die intelligent angewandt werden. Mittels LIVE DEMOs können Sie diese Thematik vertriefen und per DEMO-UNITS hautnah am STAND anschauen.
DEMOSYSEME am STAND

COOLING: Direct Liquid Cooling von ZUTACORE - Zweiphasenkühlung direkt auf dem Chip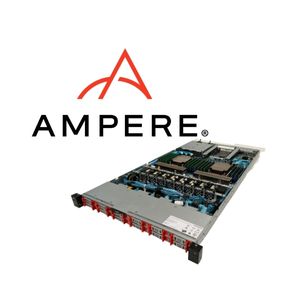 CLOUD: Ampere-System mit 64-Bit-Arm Server-basierender Architektur von Ampere Computing und SUPERMICRO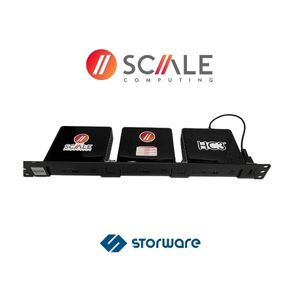 HCI Scale: Das kleinste HCI-Cluster weltweit von Boston, das Server, Speicher, Virtualisierung, Backup und Disaster Recovery in einer einzigen Clusterlösung verbindet. - Mit Technologie von SCALE COMPUTING und STORWARE ausgestattet.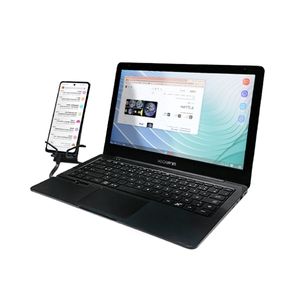 MOBILE: Digitale Sorglosigkeit mit Mobile Only. - Wir haben ein MIRABOOK von MIRAXESS am Stand. Verwandeln Sie damit Ihr Smartphone in einen Laptop.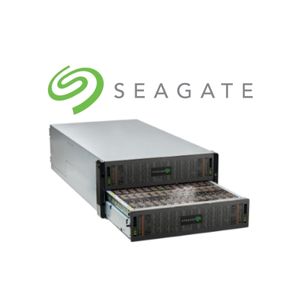 STORAGE ARRAYS: ExosX 5U84 von SEAGATE - für maximale Kapazität, Verfügbarkeit, Vielseitigkeit und Leistung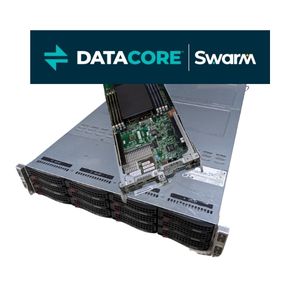 OBJECT STORAGE: Boston Igloo-SWARM Appliance - die Software-Defined On-Premise Objektspeicherlösung basierend auf SWARM von DATACORE Software


Cloudfest Highlights - LIVE on STAGE
21.03.2023:
2CRSi & Boston Keynote

WANN? - 10:45 Uhr
WO? - DOME

Sie erhalten Einblicke in "nachhaltige, moderne und flexibel einsetzbare Lösungen für Cloud DataCenter und direkte Flüssigkeitskühlung" in unserer Keynote.

REFERENTEN:
Alain Wilmouth (CEO & Founder, 2CRSi) und
Philipp Kurus (Senior Sales Executive OCP, Boston)

22.03.2023:
MICRON FIRESIDE-CHAT

WANN? - 11:50 Uhr
WO? - DOME

Besuchen Sie den exklusiven Fireside-Chat von Esther Spanjer mit dem praxisnahen Titel "Wie löst Tom das?". Dreh- und Angelpunkt der Live-Session sind Micron's Innovationen und Technologien, die die Produkte, Branchen und Unternehmen von morgen prägen (werden).

REFERENT(IN): Esther Spanjer (Director of Enterprise Business Development EMEA, Micron Technology)

22.03.2023:
Boston Workshop
mit NVIDIA

WANN? - 15:30 Uhr
WO? - ROCK CAFÉ

"Transformation von KI-Workloads mit modernen KI-Frameworks und Kühlungslösungen." In diesem Workshop werden wir untersuchen, wie KI-Workloads durch mehrere Schichten beschleunigt werden können.

Anhand einer Fallstudie aus der Praxis, zeigen wir Ihnen, wie frei verfügbare Frameworks die Zeit bis zu einer produktionsreifen Lösung auf der Workload-Ebene verkürzen können. Sie erfahren zudem, wie NVIDIA AI Enterprise den Einsatz von KI in der Produktion auf der Ebene der Software-Infrastruktur vereinfacht und demonstrieren, wie moderne Flüssigkeitskühlungslösungen die Leistung steigern und die Gesamtbetriebskosten senken können.

REFERENTEN:
Konstantin Rygol (Lead Engineer AI & HPC, Boston) und
Joseph Gonnachon (Marketing manager AI & HPC solutions, 2CRSi)
MICRON MEETING-LOUNGE

Besuchen Sie den exklusiven Micron Meetingpoint mit den aktuellen, technologischen Highlights des Silizium- und Halbleiter-Herstellers.
UNSER Tipp: Schauen Sie sich die neue 9400 NVMe SSD einfach einmal aus der Nähe an.
Technologiepartner am Stand
(Stand: 22.02.2023)
Starten Sie Ihren Cloudfest-Besuch auch diesmal am Boston-Stand
Wir nehmen Sie mit auf eine Reise zu den neuesten, technologischen Innovationen, Highlights und Demo Units zum Anfassen für Ihre Cloud-Umgebung.
Unser internationales Team freut sich schon jetzt darauf, Ihnen detaillierte Informationen an die Hand zu geben, wo und in welchem Umfang Sie die Technologien einsetzen können.

Bis bald am Boston-Stand H07 im Europapark/Rust.
Wir freuen uns darauf.
Ihr Boston-Team